Assam Floods
Assam on July 24, 2020
The water of Brahmaputra has flooded Assam this year, coinciding with the Corona virus pandemic.
(Published on: 24 July, 2020 @08 PM)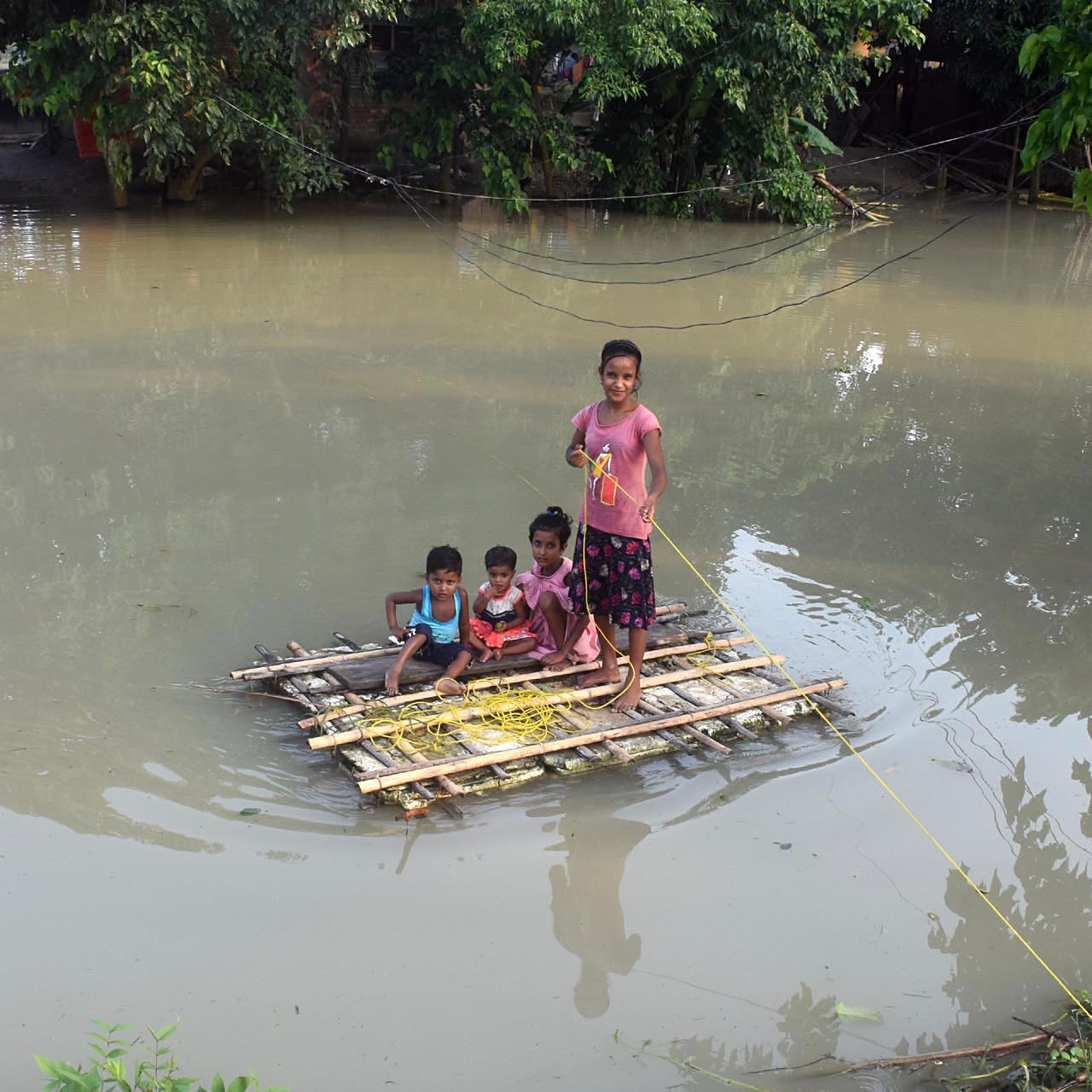 The water of Brahmaputra has flooded Assam this year, coinciding with the Corona virus pandemic. Assam is very prone to floods as they experience flooding every year. It happens because Assam has Brahmaputra River which is massive and it receives good rainfall every year. Glaciers melting in summer adds on in it, intensifying the downstream and causing flooding.
The flood initially started in May 2020 but has affected up to 2 to 3 million people till the current month. The flood has proven to be destructive not just for the humans but animals too. A lot of them got displaced. Crop and agricultural land got destroyed. Till now total death toll has reached 87. Flooding has affected 24 districts. And over 1 lakh hectares of agricultural land is destroyed. It has forced hundred and thousands of people to take refuge is relief camps.
The third wave of floods have submerged 92% of it, leaving the animals with no option but to shift and be on move. Rhinos have started taking shelter on highlands of the forest. Elephants and other animals are on move to other villages. About 108 animals have died during this flood at the Kaziranga National Park and Tiger Reserve in Assam. The number also includes 9 Rhinos that have lost their lives. The Director, Shiv Kumar has recently stated that the death toll of animals is expected to rise. He also added that some rhinos that left the park have now returned. The park authorities have confirmed that among the 108 dead animals, there are 9 rhinos, 4 wild buffaloes, 7 wild boars, 2 swamp deer and 82 hogs. The annual floods have always been difficult for the animals. Last year, the floods claimed around 200 animals, including 18 rhinos.
The State Disaster Response Fund and National Disaster Response Fund have been working on it. Central government announced that they will release Rs 346 crores in the first phase under the Flood Management Program scheme to Assam and will hold talks with Bhutan to solve the recurring problem faced by the lower parts of the village.